The Baby-Sitters Club
by Rachel Shukert and Ann M. Martin
Paulilu Productions
If you're anything like me, you need some comfort in your life and quite urgently. If you do, consider The Baby-Sitters' Club, the new series on Netflix, a prescription-strength balm for the soul. It will ease your tired mind and your sore heart and make you feel hopeful for what is to come.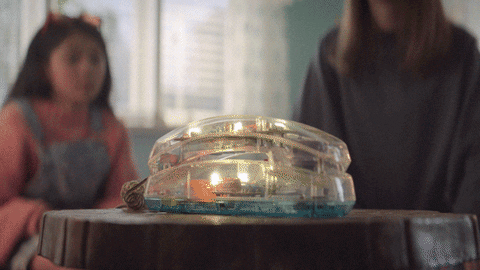 First a little background. Books were my first real friends. Hell, they still are my friends. And it started with Sweet Valley High, The Baby-Sitter's Club and an assortment of horse riding books. My loyalty to and gratitude for these books is unending. So it was with trepidation that I began watching The Baby-Sitters' Club on Netflix. I am blessed with a poor memory for plot (it makes rereading almost as rewarding as reading the book for the first time) so I could not remember anything about the books that I know I loved as a child.
So it was with fresh eyes that I was introduced to Kristy, Claudia, Stacey, Mary Ann and, later, Dawn. Kristy, founder and president of The Baby-Sitters' Club is a force to be reckoned with and she's coming to grips with her mom's marriage to Watson, the step-dad in waiting. Claudia is an artist with a complicated relationship with her family. Stacey is the new girl in town and she's learning to be more open with those around her. Dawn is a free spirit and part of Mary Ann's new sense of confidence and liberation. It's wonderful seeing Mary Ann move from timid to quietly confident throughout the show.
Each episode is told from a different member's perspective with lessons learnt along the way. For those of you wondering, the TV series has all of the nostalgia of the original series with none of the painful cringing that revisiting old classics so often delivers. You can relax into this series like a hot bubble bath, safe in the knowledge there will be no clangers to bounce you out of the story or hurt your heart.
There are two episodes in particular that standout for me. The first is the episode where Mary Ann babysits a trans girl and has to stand up for her during a medical emergency. I cheered at the TV screen! And the two-part finale to the first season is a masterclass in feel-good TV. The girls are all off at camp together and hijinks ensue. Claudia and Dawn are frustrated by the limits placed on those campers who do not have extra money to spend on activities, and they decide to Do Something about it. Of course, this brings them into conflict with the long-suffering camp manager. And I have to confess, that camp manager feels a lot like me sometimes. I wish I had a group of relentlessly positive middle schoolers to reignite my enthusiasm for life. Oh wait, I do! I have this series.
There is something so measured and reassuring about the TV series. All disagreements are resolved through communication and honesty. New friendships are made with the ease of a simple, "Hello, do you want to be my friend?"
All the things I struggle with are just so damn easy. Conflict with a friend? Just have a conversation. Feeling lonely? Just make a new friend. There are such blissfully easy solutions to the problems I face and it makes change feel not only possible, but hopeful.
In short, do you need a hug in these socially-distant times? Do you need a few hours reprieve from the strain of it all?
If yes, then this series is what you need: a warm bear-hug with a favourite friend wearing a soft jumper that smells of clean laundry and sunshine.