Marvel is everywhere these days and although their stories don't center on romance, they have every kind of romantic hero that a romance reader could desire.  Some characters get epic romances, some get a hint of romance, and some get none at all, but all the heroes (and some villains) fit certain types that are various blends of reader catnip.  For those of you who have not yet realized the wealth of fetish fuel offered to you by Marvel, here's a handy guide to the heroes of the Marvel Cinematic Universe (MCU).  Viewers should note that the MCU is serial in nature, so there aren't any tidy endings, romantic or otherwise.  If you are new to the MCU, welcome to our romance reader guide!
If you like contemporaries about billionaires: Iron Man
Tony Stark is a  self-proclaimed ,"genius, billionaire, playboy, philanthropist."  He also has a "My Girl Friday" style romance with Pepper Potts, his assistant-turned-CEO of the company.  Tony is arrogant, impulsive, and irresponsible.  He's also brilliant, driven, and with a strong moral compass once he comes face to face with the consequences of his actions.  As billionaires go, he's more of a very sexy Howard Hughes rather than Christian Grey.  So far Tony Stark has three solo movies as well as the two Avengers movies.  They are named, quite practically: Iron Man, Iron Man 2, and Iron Man 3.  The first Iron Man movie launched the Marvel Cinematic Universe.
If you like historicals: Captain America, Thor 
Sadly, we have no Regency heroes, although Thor has a Regency elegance about him.  He comes from the courtly realm of Asgard, and the royal manners and politics of Thor and his Asgardian family make the Thor movies a good match for fans of historicals.  We'll talk more about Thor under "paranormal" as well.
Meanwhile,  Steve Rogers (Captain America) comes from the 1940s and his first movie, Captain America, is set during WWII.  His second movie, Captain America: The Winter Soldier is set in modern times and has Steve trying to hold onto his 1940's values in a murky political world.  He's a great romantic hero for people who like nice guys who are kind, honorable, capable, and know how to treat a lady with respect in the sense of being polite and in the sense of assuming that she can probably kick even more ass than you.  The romance between Steve and Peggy Carter in Captain America is arguably the best of the MCU to date – their chemistry, mutual trust, and influence on each other is off the charts. A word to the wise – supply yourself with tissues before you watch anything Steve/Peggy related.  Here's Peggy clearly recognizing that Steve is a hero long before he get's ripped:
Elyse: My not-so-secret enormous crush on Steve Rogers/Chris Evans compels me to add my opinion on why Cap is the best male Avenger (cuz let's be honest, Black Widow is the fucking boss).
The thing I love so much about the Captain America movies is that they don't follow the traditional hero arc. Tony Stark and Thor have to gain empathy and lose their selfishness in order to become heroes; it's a more common trope–a man with potential for great things must mature and shed his youthful shenanigans in order to become a hero.
Cap is always a hero–even when Steve is a 94 lb kid from Brooklyn, he's got the personality, selflessness and values of a hero. His story is different because in the first movie it's not about Steve growing up; it's about him overcoming his physical limitations and the short-sightedness of others. In The Winter Soldier and in the first Avengers movie, the conflict is about how a man who is an archetypical warrior-hero fits into a modern world where there are no clear cut allies and enemies. For me it's a different and more compelling storyline.
Also I'm like 100% sure that Cap is still a virgin because, you know, he's been really busy saving the world okay?
RHG: Chris Evans agrees with you.
If you like paranormals and/or Vikings:  Thor
The Thor movies have more magical elements than any of the others so far and my GOD look at that hair.  I regret to say that there are no vampires or werewolves in the MCU to date but in Thor 2: The Dark World  we get space elves, and Thor is technically an alien, so that's something.  And the scenery of Asgard is stunning.
If you are into Vikings at all, then Thor is certainly your guy, seeing as how in the movies' mythology the Norse people were inspired to create their culture and mythology because of visitations from Asgardians.
Sadly, the romance between Thor and Jane Foster is unpopular among fans because Chris Hemsworth and Natalie Portman lack chemistry.
Portman is the victim of terrible writing and her character in unconvincing as a science genius – which is doubly irritating since in real life Natalie Portman actually is an accomplished scientist and the creator of Disney's "Be the Next Jane Foster" contest.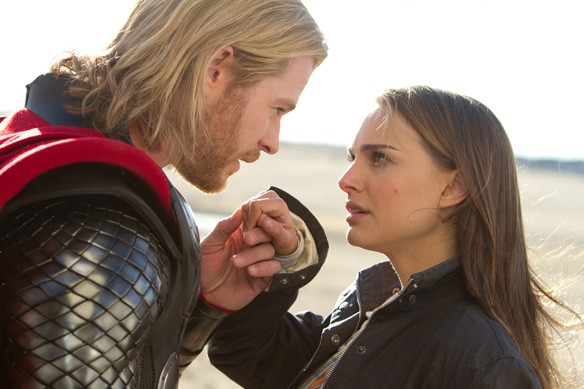 If you like pirates and rogues:  Guardians of the Galaxy
A team consisting entirely of Han Solos.  Marvel loves to bring together people who, as Joss Whedon says, "Shouldn't even be in the same room, let alone the same team."
This team consists of Andy Dwyer from Parks and Recreation (totally ripped), a green female space assassin, a warrior on a vengeance kick who is from a culture that does not use metaphor or simile, an angry, gun-toting racoon, and a tree.  Of all the MCU offerings, this has the most "rip-roaring adventure" tone of the lot.
Elyse: Chris Pratt totally nailed the Peter Quill character. Even when he's saving the universe, he's unapologetically kind of a dick.
He perfectly straddles that line between being a rogue and rapscallion but still being likeable and fundamentally good.
RHG:  "I may be an a-hole, but I am not 100% a dick."  This is kind of my guiding philosophy some of the time.
If you like sweet geeky heroes:  The Hulk
The stand-alone Hulk movies (which starred Eric Bana and Edward Norton) are notoriously so-so, but Mark Ruffalo brought incredible intelligence and sweetness to the role of scientist Bruce Banner/The Hulk in The Avengers.  His rage, Hulky and otherwise, feels totally earned.  His friendship with inventor Tony Stark inspired the "Science Bros" meme which ranges from platonic interpretations of the Stark/Banner friendship to romantic interpretations.  Banner is linked to Betty Ross in canon but he's single in The Avengers – the whole Hulk thing really screws up his personal life.
Elyse: For me the Hulk is kind of a Beauty and the Beast trope. Anyone who loves Banner has to deal with "the Big Guy" too and that's not a penis euphemism.
If You Like Dark and Broody: TV's Daredevil, Thor's Loki
 If you like dark, broody, and gritty, go for Netflix's TV series Daredevil.  It's more angsty than other Marvel fare and graphically violent – not for the kiddies.  It's also incredibly critically acclaimed so if you do like gritty, be sure to check it out.
If you like dark, broody, and Bryronic, go for Loki, Thor's brother, who appears in Thor, Thor 2: The Dark World and The Avengers.  Loki is just BEGGING to be redeemed by the love of a good woman.  I personally describe all Thor movies as epic romances in which the romance takes place between Loki and myself.  Yes, he's responsible for the deaths of hundreds of people, but I'm sure he'll apologize satisfactorily once I heal his sad, wounded heart.
Elyse: I've started watching Daredevil and I'm alternately fascinated and also hiding behind my hands because it's pretty gorey. Matt Murdoch (Daredevil) is a man who is desperate to save his city–Hell's Kitchen–from crime and villainy, both as a lawyer helping the downtrodden and as a masked crusader.  He's the lone voice in the darkness, the hero that straddles the line between good and bad. The show is fascinating because we watch Matt navigate the line between defeating the bad guys and being drawn into the same tactics as them in order to defeat them. Also Vincent D'Onofrio is like super villian OMG which only makes Daredevil more heroic for going up against him.
Loki is just…mmmm. I told Carrie that Loki is hers only because someone has to tenderly deflower Captain America and that someone is me.
If you like The Lone Wolf: Hawkeye
Poor Hawkeye never gets the love.  He spent half of The Avengers being a Loki Zombie Minion and only snapped out of it when he got beat up by a girl (HA!).  But then he did this:
So, you know…that was cool.
RHG:  Hawkeye is the peripheral characer you wish would get his own damn book, but you don't trust the author to actually do it.
If you like ensemble stories with a "family of choice" theme:  The Avengers, Agents of  S.H.I.E.L.D., Guardians of the Galaxy 
Agents had a lackluster first season and then instantly became Must See TV in season two – we're all still recovering from the whiplash.  Anything that involves Joss Whedon is going to have a ton of emphasis on building family and the MCU is no exception.  But as soon as the S.H.I.E.L.D. team started to gel, they got separated by plot, so my personal opinion is that GoG and Avengers have the strongest "family of choice" theme.  All these crazy people are fun in their solo adventures but stick them in a room with each other and it's pure magic.
RHG: I would argue that once Agents of S.H.I.E.L.D.  was able to stop floundering waiting for the hammer to drop in The Winter Soldier, it got good – which is late in season 1.  Clark Gregg is a world class Team Dad, and Ming Na as Team "Do your homework so help me" Mom is the BEST.
If you like soap opera style stories:  DC Television Universe
If you love a good soap, full of gorgeous people, complicated love affairs, fabulous clothes, and ridiculous plot lines, bypass Marvel entirely and try the DC TV universe which so far consists of Flash and Arrow.  Both shows know exactly what they are and they deliver reliably and entertainingly week after week, without the grimdark angst of the DC movies.
There's some great character development and all the cheesy goodness you could possibly enjoy.  In the second season premiere of Arrow, Oliver Queen saved a woman by swinging on an improvised rope twice.  Twice, in one episode.  Once without his shirt.  I can't get enough of it.
If you like erotica and/or m/m: Fanfic. 
Oh God.  SO MUCH FANFIC.  We can safely guarantee that wherever your desires lie, there is fanfic about it.  Some fan fic is totally non-erotic in nature – here's a link to my fav purely SFW piece, "Steve and Natasha Go to Ikea".  Some of it is torrid beyond belief.  A lot of it is m/m, so until we get a gay MCU universe character,  Science Bros (among others), will have to tide you over if m/m is your thing.
And of course don't forget Nick Fury, the many, many characters of Agents of S.H.I.E.L.D., Falcon (where's my Falcon movie?), Bucky Barnes (another sad soul who needs the love of a good woman such as myself), and Iron Patriot.
Ant-Man is coming up, for all you Paul Rudd fans.  Doctor Strange is coming in 2016 so you can get your Benedict Cumberbatch fix, and in 2018 we FINALLY get a solo outing for a black hero with Black Panther, followed by Captain Marvel (!!!!!) in 2018.
While X-Men comes from Marvel Comics,  they aren't considered part of the MCU because the X-Men rights are owned by another studio.  Until recently, that was also true of Spider-Man, but Sony and Marvel have teamed up to reboot Spider-Man so you will have a teenage science geek hero available soon.
Stay tuned for a special post about the MCU heroines! But in the meantime, which movie or character is your favorite? Which do you recommend or re-watch the most?