Hank Phillippi Ryan is an award-winning television reporter, award-winning author, and can wear red lipstick without getting any on her teeth and that's where you really need to be jealous (I totally am). She writes the Charlotte McNally series, a mystery series featuring an older female reporter who navigates single-hood and dangerous mysteries based on questions like, "What if the tip on the story of a lifetime ended up in your junk mail, and your life was in danger because of it?" (That'd be "Prime Time," the first book in the series). Ryan's heroine is one of those women who wears skirts because her ballsy nature won't fit in pants. And- as I found out yesterday, her latest book, Air Time, was just nominated for the AGATHA for Best Mystery of 2009. Congrats, Hank!
When the series first released, they had very romance-angled covers. With the new release, the covers are very different. I was very curious about that process and how it came about. Awhile back – like a LONG time ago – I asked her some really nebby questions about the rebranding and redesign of the covers for her Charlotte "Charlie" McNally series as they were recast from "mystery/women's fiction" to mystery with Really Big Mystery Names on the covers. Then a great inbox disaster happened and I found the interview – my deep and bumbly apologies to Hank and to Charlotte. The nice thing is, the books are still coming out – three more are due from Mira.
How was the decision made to rebrand your books, and how do you like the new covers vs. the old ones?
Hank: So, imagine a big conference room. Big shiny mahogany table, puffy ergonomic chairs, fragrant coffee and tempting little muffins. Around the table, some editors with expensive pens, chic representatives from marketing and sales, and, all in black with severe chestnut hair and tortoise-shell glasses, the new head of the art department.
I'm all rested, having been picked up at my hotel by a limo service, and am offered a chair near the head of the table. I look up—and arrayed on big easels, I see several glossy prototypes of the new covers of the Charlotte McNally mysteries.
NOT EVEN CLOSE.
Here's the real scoop. PRIME TIME (the first in the Charlotte McNally series) first came out with a slinky romance-y (and kind of glam) cover. It was part of Harlequin's wonderful but ill-fated NEXT series, which was designed as a women's fiction imprint. I always thought of PRIME TIME as a mystery. I conceived it as a mystery, plotted it as a mystery, wrote it as a mystery, And I thought it fit just fine in NEXT, since it features a chic and cool but realistic 46-year old investigative TV reporter. A women's fiction mystery. Fine.
The second in the series, FACE TIME, came out with a different-looking but still terrific cover—and it was branded, to my delight, "A Charlotte McNally Mystery." So I thought—great, it's being marketed and offered as a mystery. And that made sense.
Then the books started getting a lot of attention from the romance world. Fantastic! Because, indeed, there are romantic elements n the books. (Someone asked me if I could write a romance without the mystery—and I asked her: What would the characters DO? And then she asked if I could write a mystery without romance—and my answer was: Not if the characters behave like real people. You know?)
In my new-to-publishing brain, I thought it didn't matter. I loved the books, and didn't really care what anyone called them.
Then NEXT was closed. And, for what turned out to be a brief amount of time, the future of the Charlotte McNally Mysteries was up in the air—even though Harlequin had purchased two more of them, and the third, AIR TIME, was finished.
Continuing the saga! PRIME TIME was nominated for two RITAs—Best First Book and Best Romantic Suspense. So clearly, a segment of readers thought it was romantic suspense. And that made sense, too.
Then PRIME TIME won the Agatha Award for Best First Mystery. A reviewer called it "the perfect combination of mystery and romance." And FACE TIME was a Booksense notable book.
And then we got the call—MIRA wanted to re-issue those books, and continue the series. Which, as you know, was so unusual—and such a vote of confidence. A great moment in my publishing life. There was really no elaborate discussion (with me at least!) about how they'd be branded. And you'll see that on the outside of the MIRA books, it says "A Charlotte McNally Novel" and on the inside it's called "a mystery." Again, fine with me.
I was asked what I wanted the covers to be—and I said monochromatic, and cool, and clearly a series. And that's just what happened.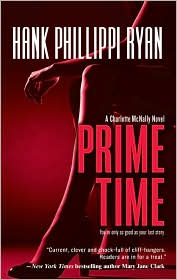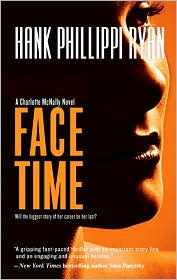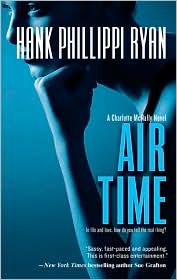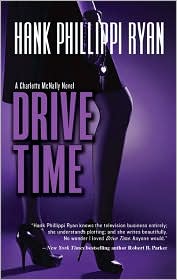 But now, after several years in publishing–world, I finally now see the critical importance of how a book is branded. I get emails from readers, saying things like "I found PRIME TIME in the romance section of the bookstore, FACE TIME in mystery, and AIR TIME in new fiction. What's up with that?"
So yeah, what's up with that. And are mystery readers put off by the faint scent of romance? Are romance readers put off by the mystery-puzzle? Ah, I wish I knew.
But was it Sandra Brown? (Sarah, do you know?) [Sarah: Eep! I don't!] who said she doesn't think of her books as romance or suspense or mystery—they're just good stories. So I'm with her. It just might make them tough to find.
Has the switch from focusing on romantic elements to mystery elements changed the way you've branded yourself?
Hank: Nope. Not one bit. Well, okay, maybe. But it was the other way. From the beginning, I thought of myself purely as a mystery author. No idea about romance. But in learning about the romance writers world, I was introduced to an amazingly talented group of people, who, to my delight, seemed to love the books. So now I'm living, happily, in both realms.
I'm just as likely to appear and speak at a romance convention as a mystery convention…and you'll also see me hanging out with the thriller writers. As I've said for the past 30 years in my role as a TV journalist, I'm always just looking for a great story to tell. And that's the same, no matter what you call it.
---
Thank you, Hank, for answering my questions in such detail. So, which cover set speaks to you? I like the redesigned ones better, as they more clearly communicate the mystery element, and the badassery of the heroine. They are sleek and very woman-centric, but not patronizing visually. What about you?
If you're curious, Hank Phillippi Ryan's series is available all over the place. Here, have some links:
Prime Time:
Amazon | Book Depository | Powell's
Face Time
Amazon | Book Depository | Powell's
Air Time
Amazon | Book Depository | Powell's
Drive Time