Things to announce!
1. Last call for brackets for the tournament!
Bracket entries for the DABWAHA tournament will close tonight, 19 March 2014, at 11:59pm ET.
Yup, entry time is extended – I misread the NCAA schedule, which we try to adhere to, and they have two days of play-in matches. We just get down to business on the first day, 20 March 2014.
To fill out your bracket, go to the tournament site, and click "NEW"
Would you like to update your bracket? You can do that until the deadline, too! To update your bracket, select your nickname from the dropdown box, re-enter your picks, and submit!
If you've got questions, please email us or leave a comment, k?
2. Voting begins tomorrow, 20 March 2014 – and runs for two excellent and exhausting days. ARE YOU READY?
The schedule for voting is online, or, right here so you can see it:
Round 1: Set 1 (March 20 0:00 – 11:59 am CST)
(1) The Lotus Palace by Jeannie Lin v. (16) Untamed by Anna Cowan
(8) The Heiress Effect by Courtney Milan v. (9) Season for Scandal by Theresa Romain
(6) Nowhere but Home by Liza Palmer v. (11) The Ashford Affair by Lauren Willig
(3) The Rosie Project by Graeme Simsion v. (14) The Firebird by Susanna Kearsley
(5) Codex Born by Jim C. Hines v. (12) Skies of Gold by Zoe Archer
(4) Heart of Obsidian by Nalini Singh v. (13) Escape from Zulaire by Veronica Scott
(7) Love Irresistibly by Julie James v. (10) Wrecked by Shiloh Walker
(2) Chocolate Touch by Laura Florand v. (15) Run To You by Charlotte Stein
Round 1: Set 2 includes (March 20 12:00 pm – 11:59 pm CST)
(5) Forgiven But Not Forgotten by Abby Green v. (12) Back to the Good Fortune Diner by Vicki Essex
(4) The Other Side of Us by Sarah Mayberry v. (13) A SEAL's Surrender by Tawny Webber
(7) Provoked by Joanna Chambers v. (10) Broken Trails by Jordan Redhawk
(2) Captive Prince by SU Pacat & CS Pacat v. (15) Touch & Geuax by Abigail Roux
(5) Dare You To by Katie McGarry v. (12) Unravel Me by Tahereh Mafi
(4) Coldest Girl in Coldtown by Holly Black v. (13) Secret Girlfriend by Bria Quinlan
(7) The Story Guy by Mary Ann Rivers v. (10) Making it Last by Ruthie Knox
(2) Geek with the Cat by Teresa Weir v. (15) Unbuttoned by Maisey Yates
Round 1: Set 3 includes (March 21 0:00 – 11:59 am CST)
(1) Must Love Kids by Jackie Braun v. (16) His Until Midnight by Nikki Logan
(6) Rhythm & Bluegrass by Molly Harper (11) Sleigh Bells in Snow by Sarah Morgan
(3) Carolina Girl by Virginia Kantra v. (14) Neanderthal Seeks Human by Penny Reid
(3) Snow Kissed by Laura Florand v. (14) Back Across the River Styx by Karalynn Lee
(8) The First Move by Jennifer Lohmann v. (9) Girl Least Likely to Marry by Amy Andrews
(7) The Tilted World by Tom Franklin & Beth Ann Fennelly v. (10) The Golem & Jinni by Helene Wacker
(2) Longbourn by Jo Baker v. (15) A Spear of Summer by Deanna Raybourn
(6) Ripped by Sarah Morgan v. (11) Starting from Scratch by Stacey Gail
Round 1: Set 4 includes (March 21 12:00 pm – 11:59 pm CST)
(1) Last Hour of Gann by R. Lee Smith v. (16) Hero by Alethea Kontis
(8) Shapeshifted by Cassie Alexander v. (9) Caught in Amber by Cathy Pegau
(6) Love By the Numbers by Karin Kallmaker v. (11) Code of Honor by Radclyffe
(3) Magpie Lord by KJ Charles v. (14) His Kind of Woman by Nona Raines
(5) Destiny's Embrace by Beverly Jenkins v. (12) Sweet Revenge by Zoe Archer
(4) Any Duchess Will Do by Tessa Dare v. (13) Luckiest Lady in London by Sherry Thomas
(1) Eleanor & Park by Rainbow Lowell v. (16) Scarlet by Marissa Meyer
(8) Two Boys Kissing by David Levithan v. (9) Fangirl by Rainbow Lowell
Please note that voting takes place at the DABWAHA site. One vote per IP address.
3. Thank you to our sponsors!
The DABWAHA tournament is sponsored by Penguin, who would like you to know about JR Ward's The Hero and Maya Banks' Letting Go. You'll see the ads for these books at the top of the tournament site.
We also have an ad for Marie Sexton and Heidi Cullinan's Family Man, which we added briefly to the tournament while under the mistaken impression that Love by the Numbers was a 2012 book. I really enjoyed this book, which was one of the Sizzling Book Club picks in 2013, so if you're looking for MORE awesome books to discover through the tournament, don't miss theirs, which is out in print this month.
And I also need to mention that the tournament is brought to you by TBR LLC, a joint project of Smart Bitches Trashy Books LLC and the Dear Author Media Network LLC, and also by caffeine (on my end, anyway).
4. Moar prizes? YES MOAR!
The prizes page has been updated with more excellent prizes from publishers and authors, so have a look. And thank you like WHOA to everyone who has offered a prize. This tournament's prize collection is really spectacular.
5. May the voting be in your favor!
Get ready to vote tomorrow through Sunday, and, if you feel like watching some fun, have a look at the #dabwaha tag on Twitter, where vote mongering, trash talking (often by effusive and genuine compliments to one's opponents) and general mayhem take place.
This year, there are graphics. And they are hilarious: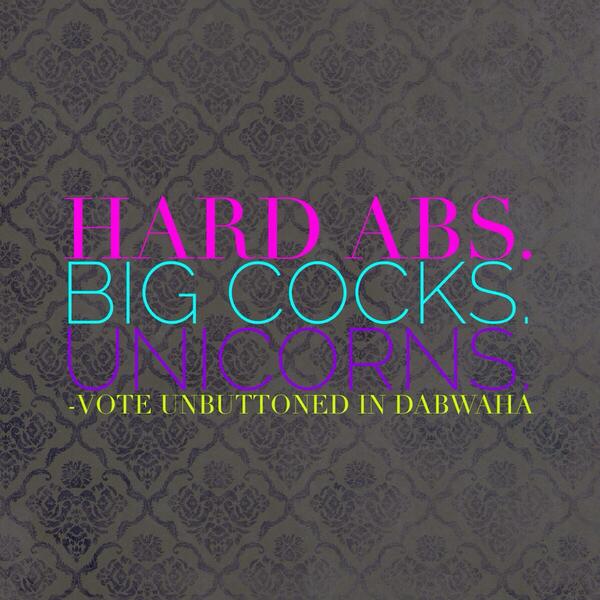 Game on! Good luck, everyone!