Everything I Know About Love I Learned from Romance Novels is out in stores everywhere (or should be!), so let's celebrate with HUGE GIVEAWAYNESS OF AWESOME!
So many authors contributed to EIKAL, and shared such amazing and valuable stories about their own experiences with romance that I wanted to celebrate EIKAL's release with a GIANT BASKET of every author's book that I could get my hands on.
PLUS, if you're curious about digital reading, you get a choice of those, too (thanks to Jeaniene Frost for the idea!).
Here's the deal: leave a comment, and tell me one thing you've learned from romances – silly, sad, serious, wtfish, whatever – and you're entered to win.
This contest is open to anyone anywhere, including the space station (Hi Astronauts!), and I will ship internationally. You must be 18 or over, and this is void where prohibited. The comments are open from now until noon EDT, Tuesday 11 October.
What do you win?
Your choice of: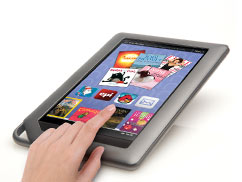 or
A Sony Reader PRS-T1BC with WiFi
This contest is open to anyone worldwide where permitted, but it is the winner's responsibility to make sure the device selected will work in their location.
BUT WAIT THERE IS MORE. A LOT MORE.
I'm giving away books from every author whose words appear in the book, as well as some kind folks who have hosted giveaways of EIKAL of their own awesome volition. And books that I think you'll like. Hell, if it's a romance that's spiffy and it's not glued down, it's going in the box. I'm putting as many books as I possibly can in one box, y'all. I think this might require more than one box. Or a bigger boat.
Some have been sent from the authors themselves (thank you!!) and others I've been collecting. There's a bobble head in there, too, and something from every genre.
Here's a look at the Basket Of Awesome so far—and please note: as books come in to Bitchery HQ, I will be adding to this list, so there will likely be more. You might want to sit down. This list is unreal.
Note: some of these books, including 4 of the Carr novels, the Crusie omnibus, the Christina Dodd books and the Bujold hardcover are signed by the authors. Not like they all signed each other's books, but you get the idea.
And there's some EXTRA BONUS AWESOME:
You'll get a copy of the three-armed lady!
And a Robyn Carr deluxe backpack, t-shirt and set of Jack's Bar coasters:
And a Nora Roberts bobblehead – new in box and SIGNED by Nora!
I'll be adding to this list as books arrive – and there's always a chance for bonus swag. Can you tell I'm having a lot of fun putting this together? I'm so excited about EIKAL's release – and I wanted to have as big a celebration as possible here. Thanks for partying with me.