According to Jeaniene Frost, our review of Halfway to the Grave was the first review for her 2007 debut novel. I still remember Hubby picking the book up off the dining room table and asking me what it was – the cover is still very striking, and I believe the same model has been used for the series.
This week, starting today, actually, Halfway to the Grave is on sale for $1.99 as an ebook, along with bonus materials like deleted scenes and excerpts of the new book. There's never-before-published scenes, the first four chapters of One Foot in the Grave, and two additional excerpts as well. Seriously. Bonus Materials, this ebook has them.
The sale price is valid today until 25 October, so you've got plenty of opportunity to buy, gift, and nag folks if you really liked this book (I did). You can get the sale price at Amazon Kindle, Kobo, and BN.com.
So, to celebrate the sale, Jeaniene wants to give away a digital reader here, where her first review was posted. So we're going back to 2007!
Just kidding. Up for winning is one digital book reading device, either a Kindle, a nook or a Sony – winner's choice. This contest is open to anyone worldwide where permitted, but it is the winner's responsibility to make sure the device selected will work in their location.
You could win:

A Kindle 3G with Special Offers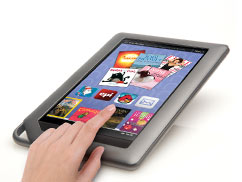 A WiFi Nook Color
A Sony Reader PRS-T1BC with WiFi
Again – winner's choice. Woo hoo!
How to Enter
Everyone keeps talking about these "bonus materials" in the Harper Collins discount ebooks – ok, I do. Duchess are In Love with Bonus Materials. The Duke and I With Bonus Materials. And now – Halfway to the Grave with Bonus Materials. 
So…what are the bonus materials you're taking with you halfway to the grave? A shovel? Some astroturf? Stakes, holy water, and a lipstick? Two all beef patties with special sauce and lettuce cheese? Leave a comment telling me what your bonus materials (heh) are, and you're entered to win.
Rules and Stuff
This contest is open to anyone 18 years of age and over, in any location where such contests and bonus materials are not prohibited by law. You have until noon eastern time 26 September 2011 to enter. Void where prohibited. I am not being compensated for this giveaway. Shirt and shoes required. PC Load Letter. Substantial penalty for early withdrawal. Do not operate vehicle while in use. Winner will be notified via email or donkey postage industries.
So, let's get to it. What are your Bonus Materials, wink wink nudge nudge?