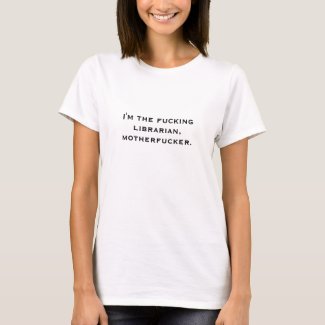 No, really, you need some links. Really. I bet you're bored and thinking coffee and HTML A href is JUST WHAT YOU NEED. Never say I'm not psychic.
First: everyone should watch book trailers the way Susan does. HOLY LOLZ Y'ALL.
The original trailer can be found here.
I hereby declare that Susan has won the internet for the day.
Co-ownership of the internet today is also awarded to Censored Genius for the epic library rant in response to Seth Godin's blog post about how librarians and the role of libraries can be reinvented. Censored Genius' rant in response reads, in part,
Read a dozen news stories from the past year and there has almost always been some derogatory comment about the homeless sleeping in the library, or people looking at porn or Facebookers, or DVD renters or old people doing the crossword puzzles in the paper or whatever. As if these people don't deserve access to what they want, even if what they want is crap. And that's my job to decide. Not Amazon's job or Netflix's or Godin's. I'm the fucking librarian, motherfucker. I am not any corporation's bitch. And if I want books in the library, we're having books. And DVDs. And econtent. And graphic novels. And pie.
I would hereby like to stomp on the toes of anyone who proposes to find "value" or, while I'm stomping, a "business model" within libraries. Seriously, knock it off. Even saying stuff like that demonstrates a deep and blithe ignorance of how libraries actually function and implies libraries don't have value already. Do I want digital books in libraries? Hello, SIMON & SCHUSTER and MACMILLIAN, yes, I fucking do. But at the expense of paper books, manga, anime, children's books, and anything else? Of course not. First, it's not my call, as I am not a librarian (I just cheerlead for them, no pleated skirt required). Second, I can share. I'm good at sharing, and that includes my local library's hurtin' budget.
I need to go deconstruct a book trailer now. That'll make me feel better. TEAM LIBRARY!
ETA: Feelin' frisky? There;s a Team Library shirt, I am Not Any Corporation's Bitch, and the ever-so-tasteful I'm the fucking librarian, motherfucker. All proceeds to benefit the American Library Association.
ETA II Electric Bugaloo: via Jane on Twitter, another link that breaks down even further what's wrong with Godin's "vision" title In Defence of the Library:
My main gripe with Godin's post, however, is that he seems to be almost blaming libraries for a lack of vision. No, Seth, what they're lacking is CASH. And pointing out that they're currently crap does not help their fight against cuts. They're not rolling in money, but instead are facing reduced budgets every year. And you know what you can do with less? Less.