One of my favorite things that the Harlequin Digital Team has created is the Blogger Bundles. Different romance bloggers put together bundles of books from the past and present, and they're great for discovering great reads from back then and right now. Today, three new ones went on pre-sale.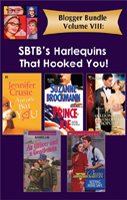 Chosen by you, the readers, as the Harlequin books that hooked you on romance, this bundle
features Anyone But You by Jennifer Crusie, Prince Joe by Suzanne Brockmann, The Millionaire's Indecent Proposal by Emilie Rose, An Officer and a Gentleman by Rachel Lee and Keeping Annie Safe by Beverly Barton.
There's also a Dear Author Community Pick
bundle on pre-order, too, featuring The Sweetest Taboo by Alison Kent, The Older Woman by Cheryl Reavis, Shotgun Nanny by Nancy Warren and Cullen's Bride by Fiona Brand.
Plus, Wendy, the Super Librarian assembled a bundle based on Kathryn Shay's America's Bravest series
about firefighters.
That ought to hold any curious reader for the holiday weekend. Happy reading and thank you for the recommendations!